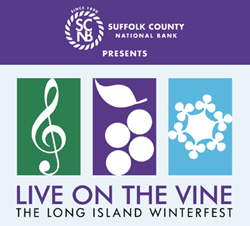 Friday, October 18, 2013 7:00 pm – 10:00 pm
Location: Bistro 72 at Hotel Indigo East End, 1830 West Main Street, Route 25, Riverhead, NY 11901
Description:
Preview the 7th Annual Live on the Vine Winterfest Music Festival sponsored by Suffolk County National Bank!
Live Music featuring Anthony Pravata & Jon March
Free to attend, open to the public, no included food or beverage.
This event is an Arts Alive Long Island Festival October 2013 Signature Series Event. For more information visit 
ArtsAliveLI.org
7th Annual Live on the Vine Winterfest is a six-week mid-winter award-winning music festival that takes place in Long Island's unique vineyard tasting rooms, hotels and other venues on the East End. Don' t miss world-class musicians paired with Long Island's award-winning wines and superb local cuisine this winter!This year, Winterfest Live on the Vine runs from February 8 through March 16, 2014. Come and experience the best jazz, blues, soul, and country music east of NYC, drink delicious wine, enjoy local specialties, and end the night at one of our romantic hotels and B&Bs!
Sponsored by Suffolk County National Bank, Live on the Vine is a collaborative effort between East End Arts, The Long Island Wine Council, and The Long Island Convention & Visitors Bureau with support from Suffolk County under the auspices of the Office of Film & Cultural Affairs.
"LIKE" Winterfest on Facebook! @liwinterfest
For more information on Winterfest, visit liwinterfest.com