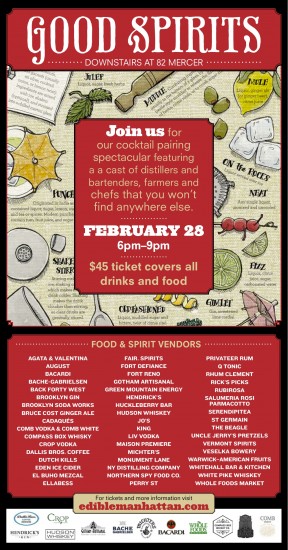 Did you buy your ticket to Edible's Good Spirits event yet? No?!? Act fast before it's last call on your entry to over 50 vendors and samples from some of the area's best restaurants and distillers. Tickets are only $45 and include dishes and cocktails from folks like Velseka Bowery, who will be serving Pierogies filled with Vermont Cheddar Cheese, Maple Glazed Bacon and Potato and pairing it with "The Golden Klenovka," a cocktail made with Vermont Gold Vodka, maple syrup, organic black tea and a splash of club soda.
Still hungry? Perhaps your next bite should come from Rubirosa, who will be serving Wild Boar Bruschetta with Blood Orange, Juniper and Rosemary with the "Sanguenilla Special," a drink made with Hendrick's Gin, Hibiscus Hop Infused Mead, Solerno Blood Orange Liqueur, Gran Classico Bitter, blood orange juice, lemon juice, soda water, Sanbitter and a slice of blood orange.
Buy your ticket here.
Here's a lineup of who's teaming up with who on the 28th:
Back Forty West and Rhum Clement
Dutch Kills and Bacardi
Ellabess and White Pike Whiskey
Fort Defiance and NY Distilling Company
Fort Reno and Warwick – American Fruits
Huckleberry Bar and Michter's Whiskey
Jo's and Hudson Whisky
Maison Premiere and Bache Gabrielsen
Monument Lane and Privateer Rum
Northern Spy Food Co. and Crop Organic Vodka
Perry St and COMB Vodka and COMB White
Salumeria Rosi Parmacotto and Long Island Vodka
The Beagle and Compass Box Whisky
Whitehall and St Germain
August and Eden Ice Cider
King and Brooklyn Gin
Veselka Bowery and Vermont Spirits
FAIR. Spirits and Whole Foods Market and Dallis Bros. Coffee
Plus…