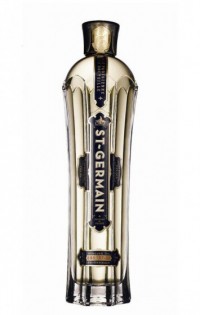 Way back in April–when the North Fork's first spring asparagus was spearing–we sent out a call to the East End's professional mixologists to enter the fourth annual St. Germain elderflower liqueur Can-Can Classic Contest, a seasonal cocktail competition being co-sponsored by our parent publisher Edible Communities.
Seeing as the entries were due in August, the folks at St. Germain have had some time to evaluate regional first-round winners, which were being selected from every Edible community. But Rob Cooper, the company's owner, sends his apologies over the delay, noting that "the quality and number of cocktail recipes submitted far exceeded our expectations and some of them are literally the best things I've ever tasted."
The East End winner is a summer-centric, farmstand cocktail dubbed "Love and Trust" from Jason LaGarenne of The Anchor, a bumpin' bar and nightclub on Spring Street in Manhattan. LaGarenne is an East Hampton native and tends bar during the summer at Georgica Restaurant in Wainscott. "Basil and watermelons are two of my favorite locally grown things, and remind me of summer," LaGarenne wrote in his submission. "Since the East End is known for its summer-long celebration, this cocktail is meant to evoke that spirit. St-Germain has a starring role, and is a nice balance with the bourbon, lemon, pepper and my local ingredients, all bought at farmstands in the area." (See the recipe below.)
Honorable mention for the East End went to "The Bee Keeper" from Curtis O'Brien of Turtle Crossing American Bistro, also in East Hampton. O'Brien's gets extra credit for his use of local gin and local honey, raised by his cousin for Peconic Farms. (We include his recipe below as well.)
LaGarenne is in the running to win $10,000 if his cocktail is chosen as the grand prize winner. Cooper promises that will happen on or before December 15th, and we've got our fingers crossed LaGarenne's creation wins it all. (If not, may it go to the mixology finalists in Brooklyn or Manhattan.)
Love and Trust, from Jason LaGarenne.

4 or 5  local organic basil leaves
1 medium sized chunk of local watermelon
1 ounce St-Germain elderflower liqueur
1 1/2 ounces bourbon
3/4 ounce fresh organic lemon juice
Freshly ground black pepper
watermelon wedge, for garnish (optional)
Combine the watermelon and basil leaves in a mixing glass or shaker and muddle until the watermelon is crushed and juicy. Add the bourbon, lemon juice and St-Germain, along with ice, and shake vigorously. Strain into a cocktail glass and garnish, if desired, with a sprinkling of black pepper and a wedge of watermelon.
The Bee Keeper, from Curtis O'Brien.
1.5 oz Hamptons Gin Tablespoon Peconic Farms Honey 1 oz St. Germain
lemon wedge
orange wedge
HOM Cava
1st) Sink the honey to the bottom of glass. 2nd) pour Gin & St. G into ice filled shaker, Squeeze fruit in. Shake Vigorously. 3rd) Strain into flute. 4th) Top with cava. 5th) Garnish with lemon twist.
Note: I use the local honey my Cousin makes for Peconic Farms, and The Hamptons Gin has a citrusy flavor (as well as being local). The drink perfectly balances sweet, herbal, dry, and delicious!