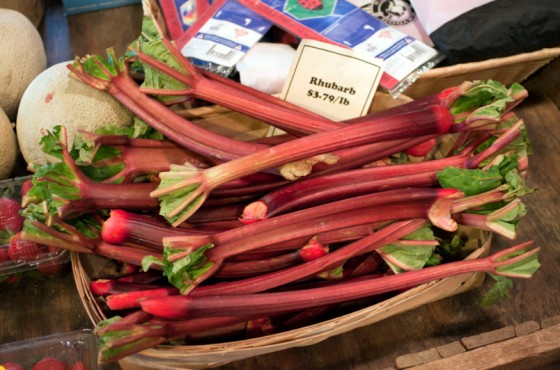 Like the tomato, rhubarb has a bit of federal legislation behind its lore: The perfectly pink-to-pale green part we eat is the celery-like stem of a perennial plant, which scientifically speaking puts it squarely in the vegetable camp. But just as with the tomato, a United States court–in New York, in fact–decided in 1947 that because the stalks were used as a fruit they were to be considered that way for taxation and regulation purposes.
Ever since, farmers market-minded diners and Northeastern gardeners have been able to look forward to the tart, lemony stalks of rhubarb as the legitimate first fruit of spring. Elsewhere, too: Rhubarb flourishes, its preppie-colored stems multiplying en masse pretty much anywhere you plant it, though in colder climes it'll stick around well through the summer. (Plants produce pink, red, speckled and green stalks, and while pink is probably prettier, the green is reportedly more robust. Just don't eat its fluttery kale-like deep red leaves, those are toxic.)
Eaten alone, Rhubarb holds a puckery, astringent appeal that isn't always for everyone: It's usually cooked down with quantities of sugar and more often than not with equal parts sweeter strawberries.  (Though the editor-in-chief of this very magazine likes to take a chomp or two straight at the start of each season.)  Even just a few years ago, you weren't likely to see the "fruit" on many local menus unless it was baked with those berries into a pie–cut into inch-long pieces, rhubarb provides a lovely lattice-like look–and even those were rarities, an old-fashioned dish brought by a friend after she unearthed her grandmother Mary's recipe.
But rhubarb is on the rise, we feel, as it should be, and that's why we've made it one of our seven Ingredients of the Week for Eat Drink Local week. (Along with strawberries, just in case you can't do it solo.) It's made it's way into (slightly) savory, in the form of a chutney to be served with pastured lamb all this week at iCi in Fort Greene Brooklyn, in a mignonette served with local oysters at Rouge Tomate, the Harrison and Momofuku; in a compote paired with salty bacon and sweet monkfish at Ruschmeyer's or in a sauce on top of local duck at Scrimshaw. (The last two spots both in the Hamptons, as you might have suspected.)
And if it's sweet you seek this week, check the rhubarb and ginger Consommé at Benchmark, the yogurt panna cotta with strawberry rhubarb compote and almond cookies at al di la (both in Brooklyn), the strawberry-rhubarb shortcake with yogurt ice cream at Northern Spy or the strawberry-rhubarb crisp with oat streusel, knotweed jam and goat's milk ice cream at Bobo or any number of menus, all of which can be found right here.
At home, however, we recommend the crisp rhubarb cooler from local cook Louisa Shafia, who often teaches classes at the Brooklyn Kitchen in Williamsburg. It's from her excellent 2010 book Lucid Food, about eco-conscious cookery. (She likes the crop so much her cover features rhubarb in two forms: whole, and in compote with yogurt and pistachios.) She takes 2-inch pieces of the stalks and simmers them with cinnamon sticks until the rhubarb is soft, then strains out the solids and whisks in honey to taste while it's still warm. She tops the cooled syrup–a brilliant crimson color, if you chose red stalks–with seltzer or champagne and of course, a few sliced strawberries.