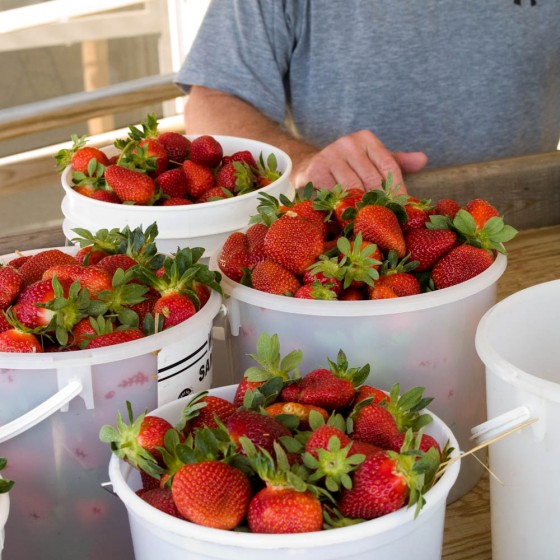 When we think about the strawberry, our very first 2011 Eat Drink Local Ingredient of the Week, our thoughts turn not to the Hudson Valley – though fine specimens are grown to our north – but to the East. The rich soils of Long Island's gently sloping fields—protected from spring chills by the waters of the Long Island sound and the Atlantic Ocean —are perfect for early crops like berries. As a result, June strawberry picking is a rite of spring up and down the tip of the landmass, where the crop has long been cultivated in quantity. ("The feature of the fruit display were the strawberries," enthused the New York Times way back in 1895, in an article about the Mineola county farm fair.)
As backyard and community gardeners know all too well, the strawberry is a perennial and something of a colonizer, sending out leggy runners with new plants willy nilly if you let them, which you should. Of course, even if you grow your own (which might yield, on your first year, just two berries, such as the one shown below) a trip to Long Island to pick a few pints is worth the effort. You can get a complete list of spots right here, or you could just drive up and around Highway 25 this very weekend, say, and there's no doubt you'd see plenty of handpainted "U-Pick" signs featuring what has to be one of America's favorite fruits. Which are technically not berries (more like edible thickened stems) and more complexly tart than we usually give them credit for. We don't mind a bit of lemony pucker in our frageria, and in fact prefer the "tart strawberry" ice cream made with New York State organic milk at Brooklyn's Blue Marble over any other we've tried. (Luckily they've got carts all over the city these days, we've heard.)
In New York, spring strawberry varieties include Earliglow and Itasca (those arrive early) and followed by Mesabi, Scott and Allstar.  There's also plenty of others — Bounty, Darselect, Evangeline, Evita, Covernor Simcoe, Micmac, Seascape, Veestar and Vesper to name but a few. Though most of us just ask for strawberries, the exception being the pointy-leaved Tristar, which is mainly grown upstate and was engineered to produce fruits throughout the summer and fall.
(Most berries, like the varieties above, have internal clocks that tell them to stop producing fruits when they feel summer's long days of sunny rays. Tristars don't pay attention. You can usually find famously sweet Tristar's well into the year at Berried Treasures farmstand, which Delaware County farmer Franca Tantillo runs at Union Square Greenmarket on Wednesdays and Fridays and at the 77th Street and Columbus Avenue Greenmarket on Sundays. For Long Island berries at market, try searching for the words Suffolk County on the Greenmarket's farmer page.)
While one day we might be well-versed enough in strawberry variety to request for them by name, these days we take whatever local pints we can find (be they Jersey, Pennsylvania, or New York State grown) and slice them fresh into cereal with whole yogurt, or let them macerate with sugar for a bit to sit betwween Upper West Side baker Dorie Greenspan's biscuits topped with a bit of whipped Ronnybrook cream and a little finely chopped Thai basil from the windowbox. Maybe on really hot days we'll top that mixture with ice and water, and serve it a few hours later as an early summer agua fresca. (Thai basil not a bad idea there, either.) Or maybe we'll cook them down with sugar and spritz lemon juice to top vanilla ice cream or swirl into seltzer, or maybe into a rocks glass filled with muddled mint, ice and gin. Occasionally there' s a strawberry tart, when we feel like turning on the oven.  (Rest assured it's always rustic like this one; you sure don't need to waste any time overlapping fresh berries in neat, pastry-case ready rows.)
But mainly we just eat them out of hand as we're walking home from the Greenmarket. And just a few days ago our colleagues over at Edible East End, themselves pretty well-versed in strawberry picking, obviously, collected a pretty cool savory strawberry recipe from former Top Chef star Sam Talbot, who spends part of his time on Long island cheffing at the Surf Club in Montauk.
"The first sun-ripened strawberries of the season are like a hug from an old, dear friend," wrote Edible East End editor Brian Halweil at the start of his story, which includes a video of Talbot talking us through the recipe, where he halves and cores big berries and fills them with bacon, rosemary, salt and olive oil.
"It's literally one of the best things ever," he told Halweil. "It's a great hors d'oeuvre. It goes awesome with champagne, miraculously enough. There's the champagne and the strawberry and the fatty bacon sort of cuts the champagne. It's cool. It's totally something I would do with fresh strawberries."
We probably would too, though to be honest we rarely have any left over by the time we get home.